Vodafone Ghana Promotions: Made For Me, Special Data, Bossu Weekend, 2 Moorch, Double Ntosuo, Baako Pe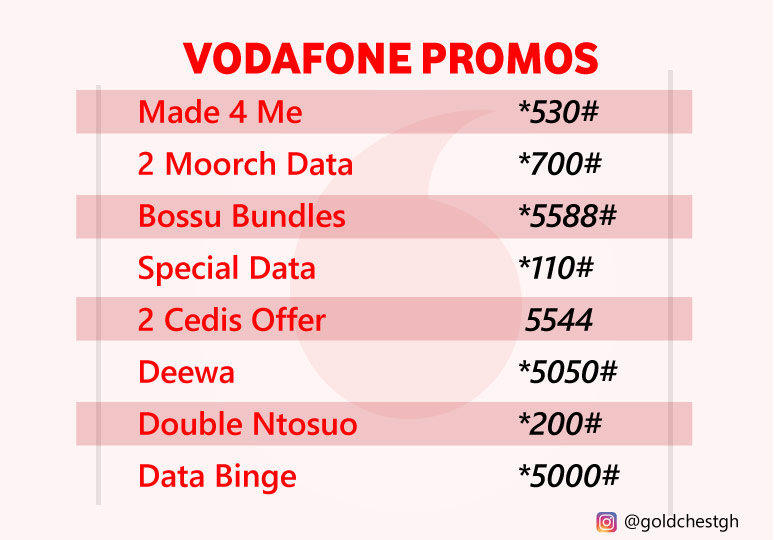 By Aku Sika
. 10th July, 2018 .
3 minutes read. Updated on 16th May, 2023
Are you looking for ways to get more Vodafone airtime and enjoy extra data (now with 4G speed)?
Yes!
Then find out about exciting Vodafone promos below.
Vodafone 2 Moorch Data
This was a special Christmas data offer from Vodafone Ghana but has now been renamed as Vodafone Too Moorch. Vodafone is giving all its prepaid customers 1.7GB + 1.7GB for night at GHc 10 with 15 days validity period, 4.5GB + 4.5GB at night at GHc 20 for a month and 10.5GB + 10.5GB at GHc 50 for a month. Subscribe to Vodafone 2 Moorch Offer by dialing the short code *700#, selecting option 1 and choosing your preferred offer. You also have the option of bundling it for family or friends.
What time does Vodafone 2 Moorch Night bundle start?
Vodafone 2 Moorch data night bundle starts from 12AM and ends at 4AM.
Vodafone Free after One / Vodafone Baako Pe
Vodafone Free After One also known as Vodafone Kasa Tenten Talk promo gives customers the freedom to talk "saaa".
This promo is quite similar to MTN's Free After 1 offer.
With this promo you can make free calls to MTN, Vodafone, AirtelTigo and Glo after paying for only the first minute.
Dial Vodafone Free After One code *135# or 135 to subscribe now.
Vodafone Eekoso / Loyalty Points Promo
Vodafone Eekoso is the new big deal. Get rewarded for simply using your Vodafone network.
How?
Just keep your Vodafone network active, top up (make calls & buy data) and use Vodafone Cash.
You will get rewarded with Vodafone Red Coins each time you top up.
Gather a few Red Coins and use coins to get free airtime, data and money, yes actual money to your Vodafone Cash account.
To redeem your Vodafone Eekoso coins dial the shortcode *533# and win instant gifts.
You can also use your Vodafone Ghana app to redeem your Red Coins.
Vodafone Made For Me
This is a special daily offer given to Vodafone prepaid customers. With Vodafone Made4Me, Vodafone Ghana presents you with new exciting offers in the forms of data and airtime each day.
Vodafone Made For Me offer includes Vodafone 2GB for 3 days, 5GB for 5 days and many more.
Dial Vodafone Made For Me code *530# and select the offer you want to enjoy.
Related Post: How to Send Money From Vodafone Cash to MTN Mobile Money or AirtelTigo Money
Vodafone BOSSU Daily, Data and Weekend Offers
This may be the coolest weekend offer by any of the Telcos in Ghana thus far. Vodafone's new Bossu offer gives you 300 mins of airtime to call all networks and 5GB of data to browse during the weekend (Saturday and Sunday) for just GHc 6.
Dial Vodafone Weekend Bundle code *5588# to enjoy this weekend offer.
Vodafone Ghana has now added Bossu Daily and Bossu Data offers. Dial same short code *5588# to subscribe to Vodafone Bossu Daily and Data.
For the data offer, you get 3.5GB at GHc 10 for 5 days and 10GB at GHc 40 for 15 days.
Vodafone Special (Vodafone Cash)
If you have registered for Vodafone Cash, you get to enjoy special data and airtime bundles.
For GHc 4.50, you get 1.3GB of data which is valid for 1 day, Ghc 3.50 for 800MB and GHc 2.50 for 450MB data valid for 1 day.
Also get 200 mins airtime for Ghc 5 to call all networks, valid for 7 days.
Dial Vodafone Cash short code *110#, choose Buy Airtime or Data and select Special Offers to enjoy the special offers.
Vodafone Cash Free Transfer
Sending money from Vodafone Cash to MTN Mobile Money and AirtelTigo Money is now free. Yes, zero charges.
Transfer any amount of money from Vodafone Cash to any network as many times as you want, and still pay no charges. Dial the Vodafone Cash short code *110# to start now. If you haven't yet registered for Vodafone Cash, you would need to register first.
How to Register for Vodafone Cash
If you haven't yet registered for Vodafone Cash, all you have to do is to visit any Vodafone office with a valid ID card and request to be registered as a subscriber.
After registration, you get to enjoy the Vodafone Special Bundles.
Vodafone 2 Cedis Offer
Vodafone gives you 400 minutes airtime to call Vodafone numbers, 30 minutes airtime to call other networks, 100MB data and 20 SMSes to Vodafone numbers for 3 days at only GHc 2.
Dial 5544 to subscribe for Vodafone 2 Cedis Offer. You will be charged 2 Ghana Cedis for this offer. Once you subscribe, Ghc 2 will be deducted from your credit balance for renewal every 3 days.
Note: You must have a minimum of 2 Ghana Cedis to subscribe for this offer.
Vodafone Unlimited Calls (Vodafone Deewa)
All Vodafone prepaid customers can now talk for FREE to all Vodafone numbers for only Ghc 0.50 (5O pesewas). You also get free SMSes to other Vodafone numbers.
Just dial 5050 or *5050# for subscribe for this daily offer.
Vodafone Data Binge
Dial *5000# to enjoy this new data binge offer.
This offer may come in a bundle of Ghc 10.00 for 1200 mins to all Vodafone numbers, 200 mins to MTN Ghana, AirtelTigo and Glo number, and 500 MB of data to browse.
You may also get 20GB at Ghc 65.00 valid for 30 days.
Note:The Data Binge bundles are not fixed, they do change.
Vodafone X
Well, if you have never tried Vodafone X before, you should now. Vodafone X is tailor made for the youth but anyone can subscribe for this offer. Vodafone X is available to all prepaid mobile subscribers.
You can subscribe for the package by dialing *5888# or calling 5888. Vodafone X comes with free calls to other Vodafone X subscribers, and other cool social media data packages.
Don't forget to download and install the My Vodafone app in your app store to get a welcome free Vodafone X data when you "shake" your phone.
Vodafone Double Ntosuo
Vodafone Ghana is now offering you Double Ntosuo on Red bundles of GHS 1, GHS 2 and GHS 5. Dial *200# to subscribe and enjoy double talk minutes to call all networks and double data to browse.
This promo is now part of Vodafone Red.
---
How to Bundle Vodafone Data
To subscribe for Vodafone internet data bundle, just dial the short code *700# on your mobile phone and choose your preferred package. Remember it's always cheaper to bundle Vodafone data than it is to use your credit balance.
Vodafone Magic Bonus Offer
This is quite like Vodafone Ekikimi (our favorite offer), but rebranded and upgraded as Vodafone Magic Bonus/Recharge. With this offer, Vodafone customers get up to 100 times bonus on all top ups worth GHc 2 and above. Dial the short code *561# to subscribe. Share *561*YourRechargeCode# with your friends for them to enjoy this bonus.
This promo ended in July, 2019.
Good news: Vodafone Ghana is now giving its customers the option to choose where their internet data will be deducted from.
This means that you no longer have to panic when you exhaust your subscribed data bundle. Just dial *700#, select PAYG Browsing and choose option 2. Now your main credit won't be touched.
Vodafone Customer Care
For further enquiries, contact Vodafone Ghana customer care on 100. You can also dial *151# for other Vodafone offers.
Which other awesome offers haven't we mentioned above? Kindly share below.
---