5 Websites you can Download Free Ghanaian Music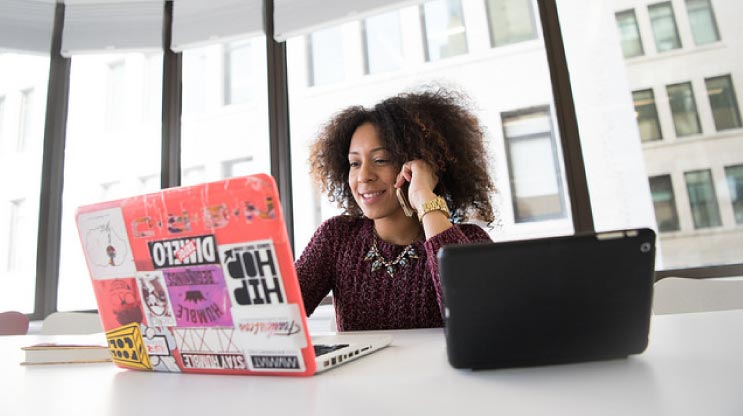 Picture credit: WOCinTech
By Aku Sika
. 26th December, 2017 .
. Updated on 24th April, 2018 .
3 minutes read
We all love free stuffs, don't we? Even more so when they are free songs.
Here are 5 websites you can download free Ghanaian and Nigerian songs.
Most of the songs on the websites listed below are free singles or promotional music by Ghanaian artistes.
1. Ghanamotion.com
It's one of first sites that started offering free music downloads, and it has over the years gained popularity and authority as the main destination for downloading free Ghanaian and Nigerian songs.
The site allows visitors to search for, listen and download free Ghana hiplife, highlife, dancehall and afrobeat music. You will also find lyrics to some popular Ghanaian songs on this site. The homepage displays featured music and top trending songs to make it easier for its visitors to find popular music.
The song quality on this site is great except for the voice drop of Ghana motion dot com at the beginning of their mp3 songs.
2. Urbanroll.com.gh
Urbanroll has a clean user interface that makes searching, listening and downloading music very easy. Navigating the site was smooth.
They have all the latest free Ghanaian hiplife, highlife and afrobeat songs here. While on their site, check their weekly music chart to find Urbanroll's top ten most downloaded songs.
They also have the best selections of top trending Ghana entertainment Youtube videos including Delay's interviews embedded on their site.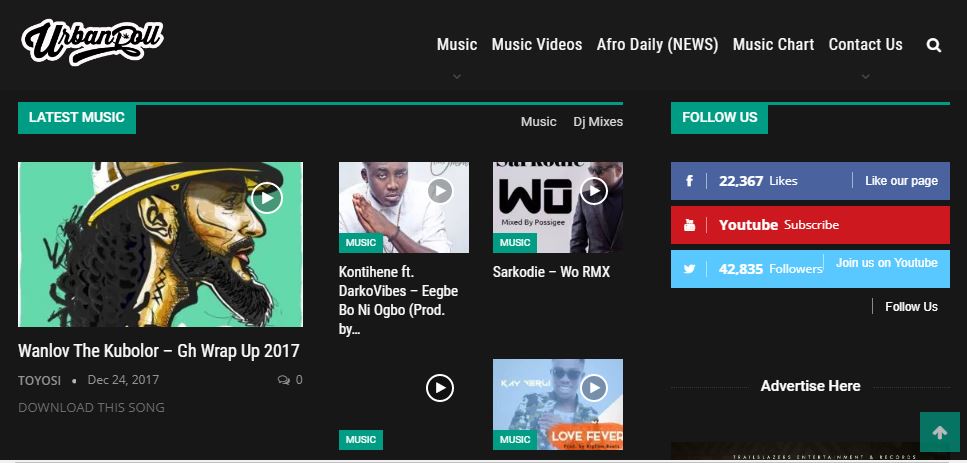 Popular Post: How to Buy Apps and Games Using MTN Mobile Money on Google Play Store
3. GhKings.com
GhKings makes it easier for its users to discover new Ghanaian songs, it has a search box for its visitors to find, preview and download songs. You can also get latest African entertainment news on GhKings. Remember to check out their top 20 most popular songs in 2017.
4. Ndwomfie.com
Ndwomfie offers you Ghanaian hiplife, afrobeat, highlife and latest Ghana gospel music to download for free. If you are a fan of DJ Mixtapes, you can find some of the best mixes or adadamu songs on their site. You can also watch local music videos on Ndwomfie.
5. Ghxclusives.com
GhXclusives lets you search for, listen and download latest Ghanaian hiplife, highlife, afrobeat, dancehall and gospel songs on their site for free. If you are into DJing, you should check their DJ Booth page where they share latest DJ trends and news.
Paid Music
You can download official albums/singles released by Ghanaian artistes by buying them on iTunes or streaming the songs on Deezer or Apple Music. Apple is currently offering new subscribers 3 months to try its streaming service for free.
You may also follow your favourite artistes on social media to know where they put their music up for sale.
If you are on any of these sites and you want to contribute to discussions by commenting or entering any sensitive information on the said site, make sure the website is secured.
Support Ghanaian Artistes
How do you know a website is secure? You can know this by checking the address bar, if you see a padlock sign or https at the beginning of the web address then it means it is secured.
Most of the mentioned sites here have copyright notice statements that let artistes or thier management report any copyrighted music on their sites to be taken down.
Always remember to support local artistes by buying their official music albums/singles on iTunes, buying their merchandise and patronising their music shows.
---