Shortcodes for Mobile Networks in Ghana
. 9th December, 2017 .
1 minute read . Updated on 14th January, 2019
With most mobile users in Ghana using two or more sim cards from different mobile networks, it is a bit hard keeping the numerous Vodafone, Glo, AirtelTigo and MTN short codes in one's head.
Below, you will find the various MTN short codes, Vodafone short codes, Glo short codes and AirtelTigo short codes.
The following short codes are the same for all the networks in Ghana. Dial:
100 to call Customer Care
*124# to Check Balance
*134#pin# to Top Up Credit
*400# to Check Registration of Sim Card
(for MTN and Airtel, send a blank message to 400)
Short codes for internet bundles of Vodafone, MTN, AirtelTigo and Glo Ghana
*700# for Vodafone internet bundle
*138# for MTN bundle code
*125# or *111# for Airtel bundle code
*500# or *111# for Tigo
*555# for Glo
Short codes for Mobile Money of MTN, Vodafone, AirtelTigo
*170# for MTN Mobile Money
*110# for Vodafone Cash
*110# for AirtelTigo Money
Data Offers' Short codes for MTN, Vodafone, AirtelTigo
*505# for AirtelTigo Big Time Data
*530# for Vodafone Made For Me
*141# for MTN Extra Data
Official Social Media Accounts of MTN, Vodafone and AirtelTigo
MTN Ghana:
Vodafone:
AirtelTigo:
The picture below contains other important Vodafone, Glo, AirtelTigo and MTN short codes.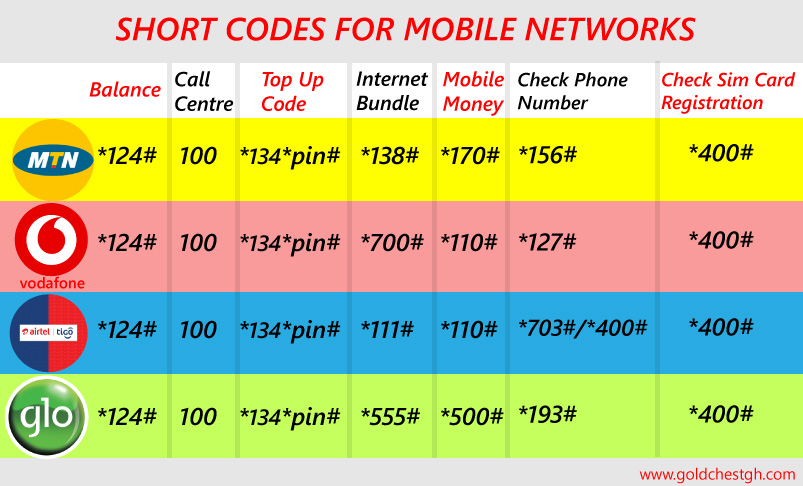 You may save the picture above and use it as a reminder.
*Note: Although Airtel and Tigo have merged to form AirtelTigo, you can continue to use their individual short codes.
Like our Facebook Page to get our weekly tips delivered to you
---
Bookmark this page and share with your friends