How to find events in Ghana
By Aku Sika
. 14th December, 2018 .
3 minutes read
Wondering where to find important and trendy events in Ghana to attend? This short article will help you to find just the right events to attend, be it a party, a get-together or a networking event etc.
In the past, it was somewhat difficult finding events to attend, but due to smartphones and the internet you can now easily pick up your phone, search for events and even get to buy tickets without moving an inch.
You can find events in Ghana at:
eGotickets
eGotickets is one of the best places to find latest events happening in Ghana. You will like eGotickets mainly because it's tailored to the local audience.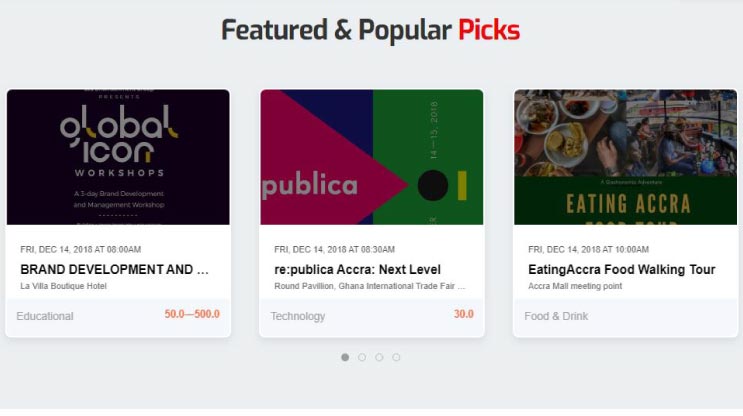 You can log on to eGotickets, search for an event and buy your tickets. eGotickets accepts different methods of payment including mobile money and VISA/MasterCard.
The whole process is very seamless. Depending on what you are looking for, you can easily find events by clicking on categories such as food & drink, movies & cinema, professional, technology and many more.
For events promoters, creating events is a smooth process, you can create a free event or sell tickets to your event. Just create an account and click on eGotickets' login to begin the process.
Eventbrite Ghana
Eventbrite is one of the world's leading events websites and it's quite popular in Ghana. Its homepage makes it super easy and simple to find any event. You can search for local events in Accra, Kumasi, Koforidua, Tema etc.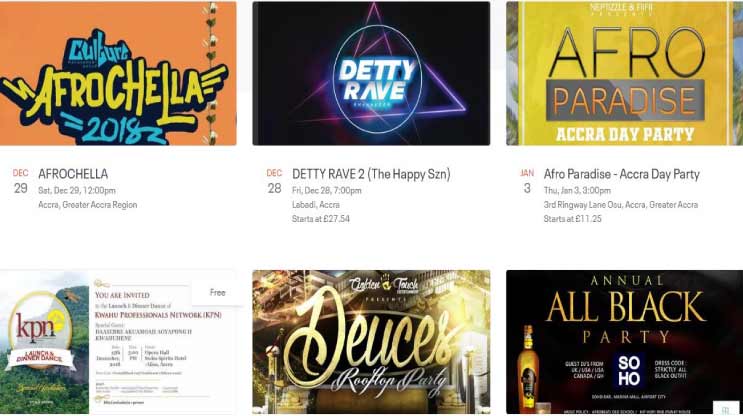 Unlike eGotickets, Eventbrite does not offer Mobile Money as a payment method, you can however buy tickets using VISA/MasterCard.
If you are an event organiser, Eventbrite makes it very simple and convenient for you, from creating events, sharing and selling tickets on Facebook to reminding event attendees about your upcoming event. You can also create free events on Eventbrite.
Visit the above websites and you will definitely find the event you are looking for. You can also find upcoming events on Ayatickets and Ticketmiller
Like our Facebook Page to get our weekly tips delivered to you
---