How to Change Your WhatsApp Text Appearance (Bold, Slanted, Font)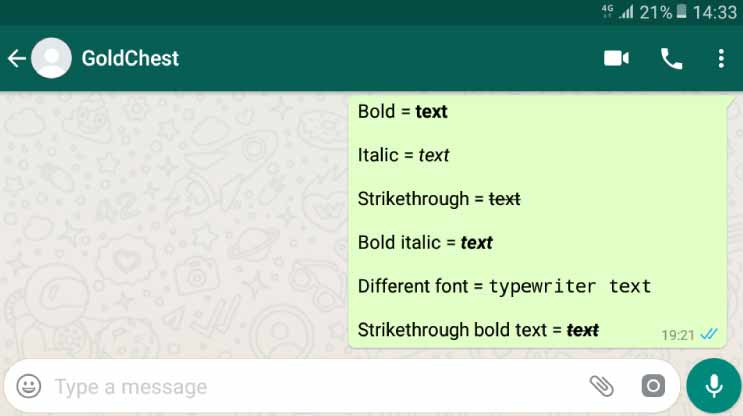 By Aku Sika
. 24th November, 2017 .
1 minute read . Updated on 27th November, 2020
WhatsApp has become one of the most popular messaging apps in UK, USA, Malaysia and India, used by many people every day. But have you tried all the different text styles you could give to your WhatsApp messages?
If you haven't discovered these tricks yet, try them, they will make your words stand out.
Tip: To make text look different, you have to enclose it in special symbols. For example, to make text bold, enclose it in asterisks like this *text*.
Add these symbols to change your text:
Bold = *text*
Italic = _text_
Strikethrough = ~text~
Bold italic = *_text_*
Different font (monospace) = ```typewriter text``` (use the slanted single quote 3 times)
Strikethrough bold italic text = ~*_text_*~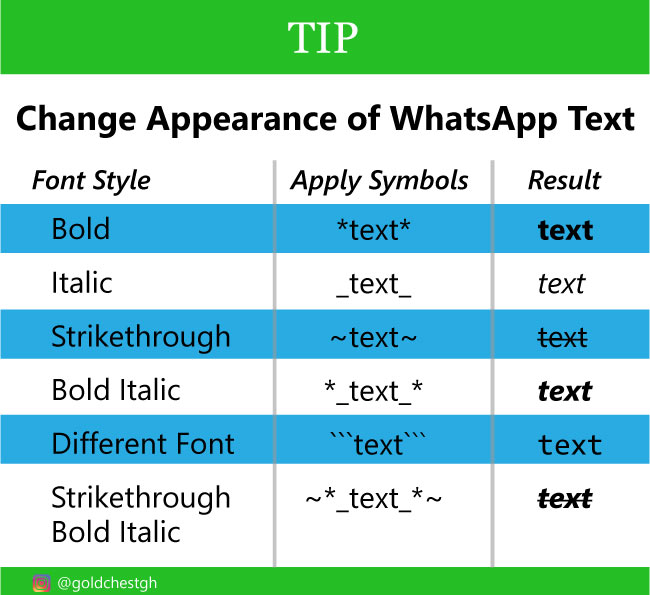 *Note: WhatsApp now gives you the option to change the appearance of your text when you highlight the typed texts.
---
Like our Facebook Page to get our weekly tips delivered to you
Share