Apply for Passport Online (Things You Will Need)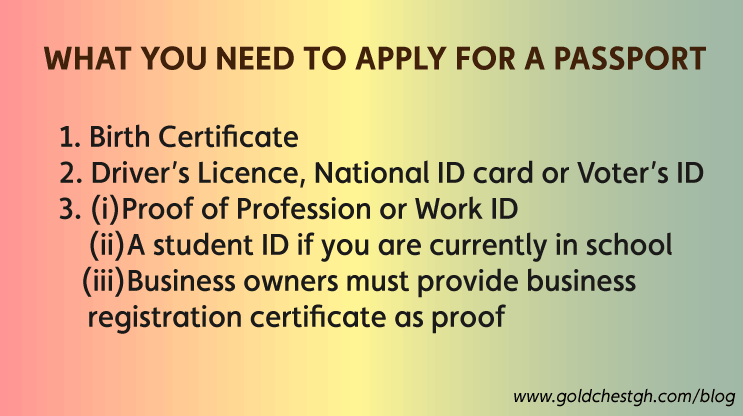 By Aku Sika
. 24th April, 2019 .
1 minute read. Updated on 3rd March, 2020
Manual Passport Application is no longer available. To apply for a new Ghana passport or renew your old one, you will have to do it online.
Are you preparing to apply for a Ghanaian passport online? If you are, read below to know which documents you will need to complete your online passport application.
What you need to apply for Ghanaian passport
1. Birth Certificate(Proof of Ghanaian citizenship)
2. Documents to support Identity such as Driver's Licence, National ID card
3 (i)Proof of Profession (An introductory letter from employer that is if the you currently employed or a work ID card (ID details must include your name, position and company name)
(ii)A student ID if you are currently in school
(iii)self-employed applicants must produce their business registration certificate as proof)
(iv)If you are unemployed and you are in the non-formal sector of employment like mechanics, hairdressers, seamstresses, traders etc you will not need proof.
Visit Ghana's Online Passport Registration portal to begin your registration or the passport office guidelines page for more information.
Like our Facebook Page to get our weekly tips delivered to you
---
Share